---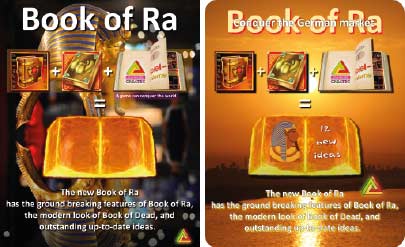 Meanwhile, I saw about 100 clones of Book of Ra from Novomatic. No one has made it close to the original. No one? There is a slot on the market what it is really close to the original. And it convinced me that it's possible to have success with a Book of Ra clone about a decade after the appearing of this blockbuster.
Book of Dead from Play'n GO is in all aspects very close to the original but has a much more modern look. This is an adequate reason for gamblers to leave the 'home'.
On the other side Book of Dead has important weak points and is a bulky partner for the true gamblers. Having a better copy of Book of Ra in the mind, one should avoid these mistakes.
In Germany, the successes of Paul Gauselmann were great. One reason was that he never copied a successful competitor's game. He always looked for competent improvements. Where other stopped thinking he thought one or two steps further.
Therefore, if you want to catch the German gamblers, don't copy but design a better Book of Ra. Get to know what the successful elements are, analyse the good and the bad points of Book of Dead and bring new elements into, elements, which do not destroy the well-known sphere and at the same time revive the feelings of the Ra-fans. There is no better way to conquer the German market than to get the gamblers of Book of Ra – more than 50 – 80% are more or less fans of this slot.
---
This is what you get
Book of Ra (Novomatic, analysis) – normal price: 3,500.00 Euro (Germany zzgl. MwSt)

The successful points, you have to make.
Book of Dead (Play'n GO, analysis) – normal price: 3,500.00 Euro (Germany zzgl. MwSt)
The modern look you have to study and the mistakes you have to avoid.
New game concept – normal price: 3,400.00 Euro (Germany zzgl. MwSt)
Two innovation points and a lot of proposals (e.g. name, theme, symbols)
This is what you pay firstly

3,500.00 instead of 10,500.00 Euro for all three scripts (Germany zzgl. MwSt)
This is what you pay second
6,500.00 Euros, if you want to produce my game concept.
---
One way is

Creating a short contract on the basis of my normal offer, you can find it here.
Another way is

Additionally, I advise you during the design process (includes graphics, sounds, new ideas from my hand, and all what is usefully for the controlling of the design process). We create a similar contract like above but with a fixed profit sharing.