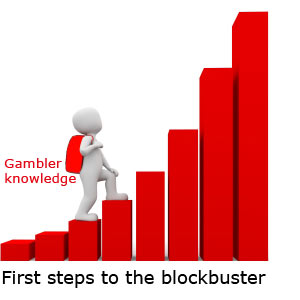 Price: 3,500 Euro (Deutschland zzgl. MwSt)
Script, possibly with video material
Exclusive (if the order comes from you)
---
Preliminary note: I started my career in Germany as CEO of big play halls in Berlin. During my studies, I sold my accumulated knowledge about gamblers by making analyses of reel slot games. Until now, I did 150 analyses for the most of the German companies, especially for Gauselmann AG (maybe better known as Merkur Gaming) and Bally Wulff (now Bally Entertainment). This work allowed me to learn how to translate the feelings during a gambling sessions in words for those people who are not experienced in gambling. I learned to assess the success potential, too, and more and more my assessments were near the reality.
---
How do I make an analysis?
I play the game with money (low and high bets, cautiously and risky, with and without bonus for covering the most gambler behaviours)

I translate the feelings during the different sessions in words for you

Only after that I analyse it with the mind.
I write down all the impression and thoughts for you orderly.

If you have asked me specific questions, they will be answered.
---
What does an analysis contain?
Rating of the game concept and the main features

Critical acclaim of all aspects of the designers work, especially quality, effects and interplay of all components to a game

graphic (overall impression)

animation (motivation, reward)

sound (hope making, signal strength, right expression)

mathematics (e.g. volatility, profile, stimulation)

Psychological effects on the

players (entertainment)

gamblers (high-roller)

Recommendations

Answers to your questions or specifications
---
What does an analysis bring into your company
reflection of your designer's work

more know-how about all aspects that are only to feel by playing a slot with money

gambler know-how

ideas and useful thoughts
It's  not possible to learn how to create blockbuster slots, but it's possible to learn how to avoid mistakes and it's possible to learn a lot of the the feeling of gambling without being a gambler.