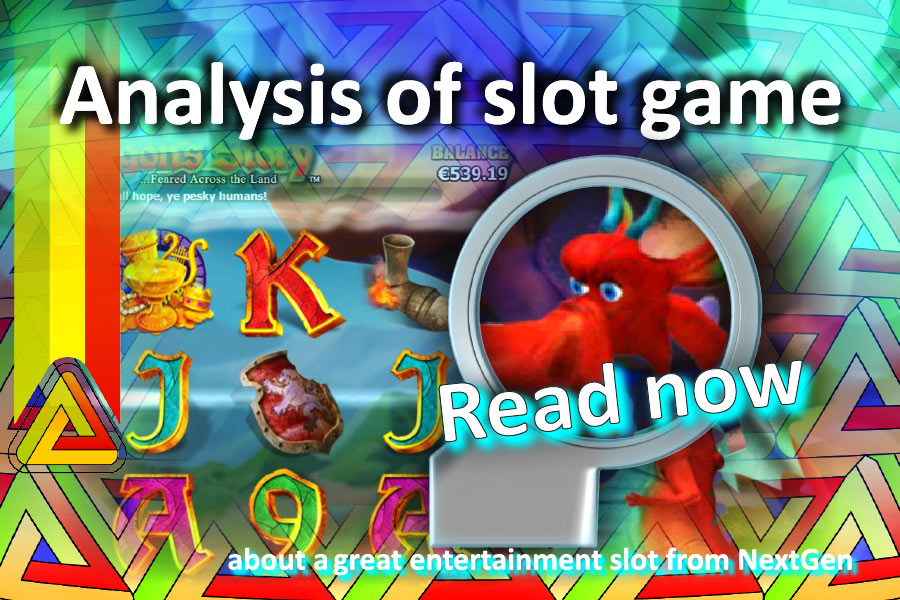 5-point-short- analysis 'A Dragon's Story' from NextGen
As I firstly saw 'A Dragon's Story, I thought: 'Oh, nice, lovely', and that was it. Later I came back with my wife, it was a comfortable evening, we drunk a little bit and we had great fun. These two sentences are saying a lot about 'A Dragon's Story'. It is a really great fun partner, but not a gambling opponent. This comes not from the theme, but from the not that great foreseeing of really big wins.
A Dragon's Story is a fantastic work of the graphic, animation and sound designers, one of the best works I ever saw.
1. The big point of these works is, that all seems like it would belong naturally together, not only within a discipline, for example 'sound', but also concerning the whole game. This strengthens the aspect 'game' ideally. Also, of course, this is very useful for the entertainment aspect.
2. Around the world, we see slots that await an extra bet for a special feature. Because this is the speciality of a German company I saw a lot of such offers. The offer of A Dragons Story is definitely one of the best I ever saw. The main reason is that the additional value of the extra feature called here Super Bet is 100% documented. There is no doubt about the value of Super Bet and, of course, the jumping dragons are animated of its best. They also give the game a seeing 'up & down' of the streaks of luck (and no luck).
3. New slots should always have something that is new, great and a little bit strange (exceptionally). The sound of the 'moving win lines' is such an outstanding element. Many slots are not that careful with the realisation of the line animation, but the solution of NextGen shows the gamblers all that what they want to know, letting only a little bit open, whether one line has, for example, two or three or four symbols.
4. When the little dragons jump up and disappear then follows a 'mysterious episode' with a knight, which is not that best for true gamblers. It's long-lasting and confusing because there is only a chance to pick up to two fires out of three. Why? All gamblers, I think, await that they can have a third choice if they have had the luck to pick two times the right. On the other hand, it's really funny. And not all slots must have high roller aspects. A Dragon's Story is a very good segment product.
5. One of the weak points of A Dragon's Story is typical NextGen and to find often in their slots. The trigger symbol does not fit that well with the rest. In A Dragon's Story, the sound is a little bit too shrill and especially a warning and not like an advance notice. The task of the trigger symbol that appears first is not to scream: 'HERE I AM', it should be sounding more in this way: 'I am here and there is a big chance that more will follow'.
There are a lot of points more which are discussable. If you want, let's talking about it. It's always worthwhile to talk about slot games. By the way, if you want a certain slot game to be analysed next, then give me a hint.