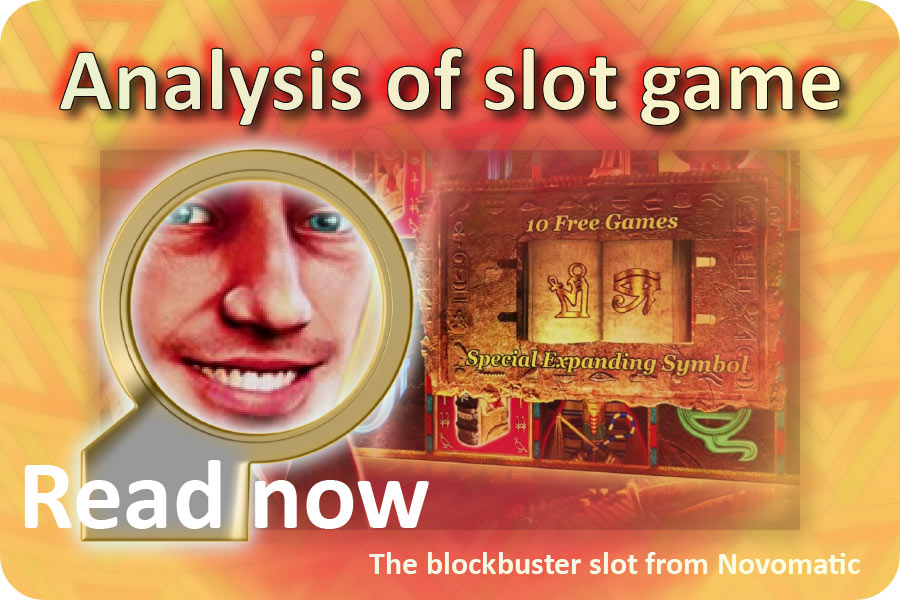 5-point-short-analysis 'Book of Ra' from Novomatic
The three important components of a slot game are entertainment (sympathy & emotional enticement), game (characteristics & rules) and gambling (risk-taking & luck). If we would make a profile of the games on the market with these three components, we would see at once that Book of Ra has an uncommon profile, a profile with less entertainment, with a perfect game and an outstanding gambling aspect.
This describes the reason for the giant success of the game totally. For looking deeper and name all the single components, there is not space here, but let's do a more important view: looking at the five steps gamblers run through on the way to favour a game.
These steps are: test it, be curious, win big, lose and try again, set trust in.
1. There is something in Book of Ra which suggests from the first moment that this game can be a serious partner. The entertainment aspect is not dominating. The background is perfect, name and theme send the right signals: treasure hunting. Book of Ra has something that the fewest games have: a good trailer. In this trailer, a man – looking like a gambler, at least like an adventurer – is going down into a cave with a torch and finds immeasurable treasures in there. But the big point in the 'test-phase' is overall that nothing awake doubts. One of the best elements of it is the trigger symbol, mostly a really important and a problematic symbol, too. But not Book of Ra, because there it is also wild. So the events 'two books appear without any evidence' are rare. The magic book of Book of Ra is a really great idea: trigger symbol, wild symbol and a perpetual reminder of the main element of the free games because the special expanding symbol comes out of it.
2. Every top game must have a new (coherent) element. 'Book of Ra' has had one of the newest and in every case one of the most logical. The special expanding symbol in free games is that simple and effective because a normal symbol becomes a well-known extra status, namely scattered, this is really organic and therefore immediately convincing. Like you all know a lot of games are working with stacked symbols. But still, the best version is to do it only in free games like Book of Ra.
3. There is no doubt, how to win big. The researcher (so named in Germany) brings the money rain and like the book symbol he is omnipresent, as two of a kind and as a big dream when the free games are going to start. It's a trump, too, that gamblers can remember the movie Indiana Jones in an unobtrusive way.
4. One of the psychological problems of free spins is the fear that they can win only a 'few pence'. How to avoid this? Mathematically it is impossible, but psychologically it is doable. Book of Ra do it and this is one of the huge trumps. The low symbols, chosen in free games as the special expanding symbol, make really clear, that the winnings cannot be big, but otherwise the low results are also rare. And on the same way, the high symbols make clear that the low results are normal and big wins can be expected.
5. To trust in a game requires the same procedure as starting gambling requires: to forget the losing streaks of the past and to have trust in what is coming, to feel that it is the right place at the right time and the right game. You can call this superstition or emotional risk search. I call it gambling.
'Book of Ra' has only one weak point: after more than a decade, it is not modern enough. Some of the more than hundred copies are more modern but less good.
There are a lot of points which are discussable. If you want, let's continue talking about it here. It's always worthwhile to talk about slot games. By the way, if you want a certain slot game to be analysed next, then give me a hint.